Simpson 270 Series 2
Analog - VOM
Special Guest Meter Page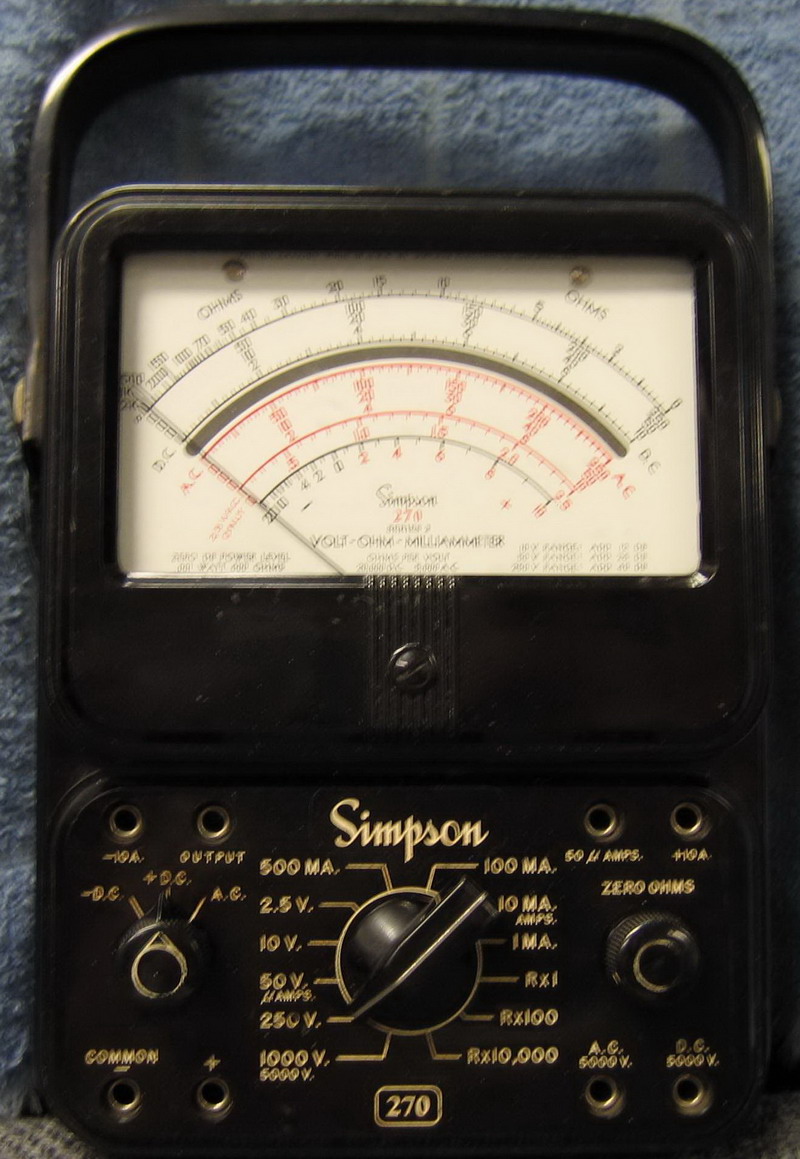 The Simpson 270 Series 2 comes standard with the mirrored dial.
Controls include: Ohms zero adjustment, AC - DC Voltage selector switch,
and a 12 position Function / Range selector switch.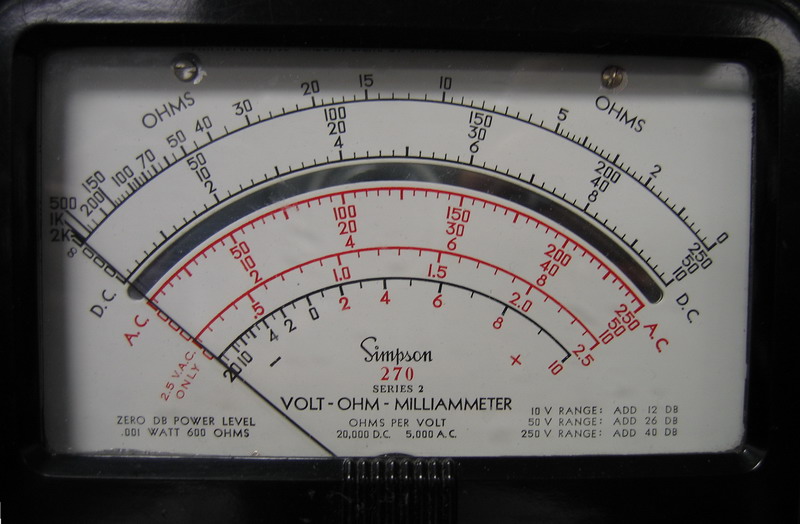 The Simpson 270 Series 2 has the Taut Band Suspension and a mirrored dial to eliminate parallax errors.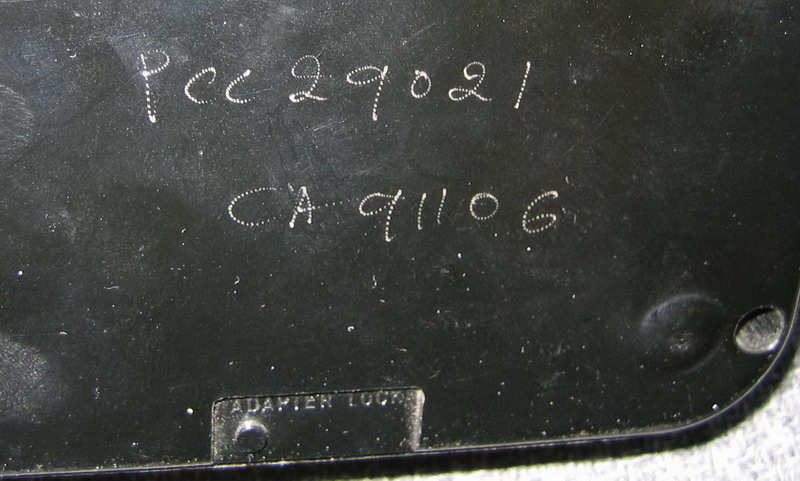 The inscription shows this meter came from Pasadena City College.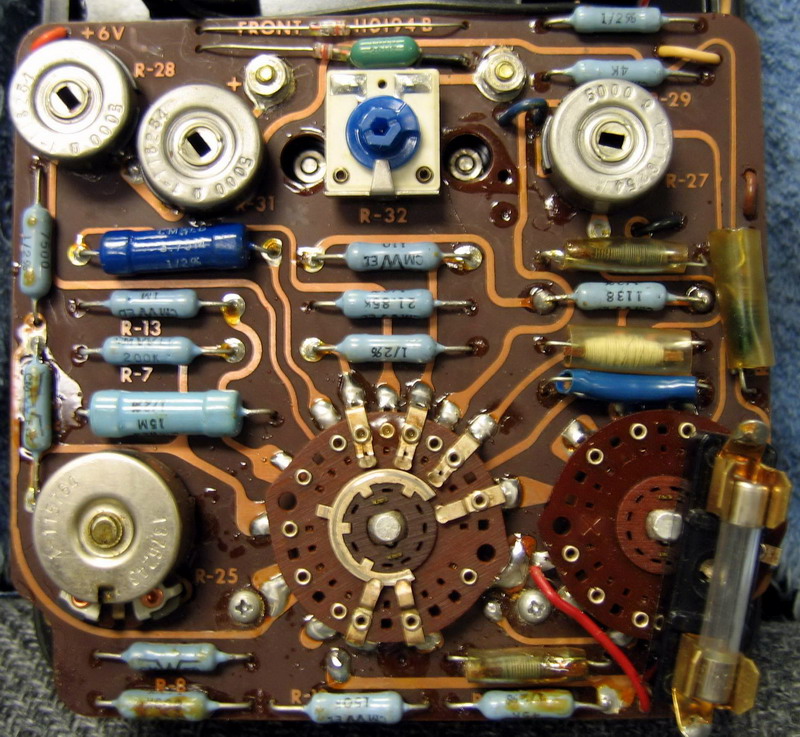 Back view of the circuit board.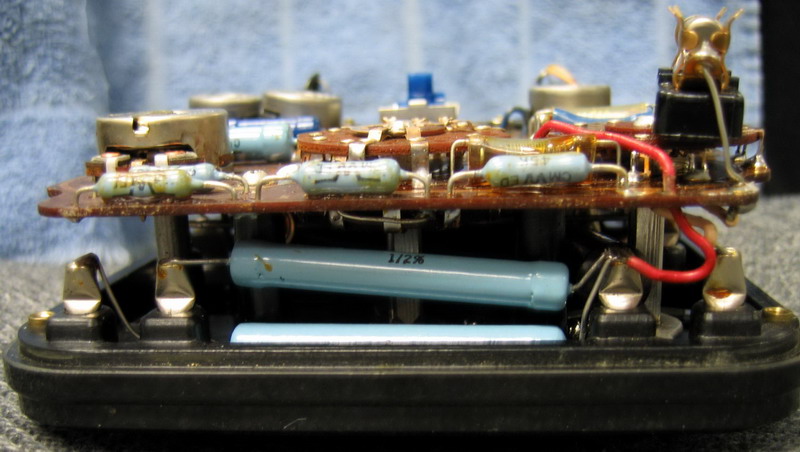 A side view of the component layout.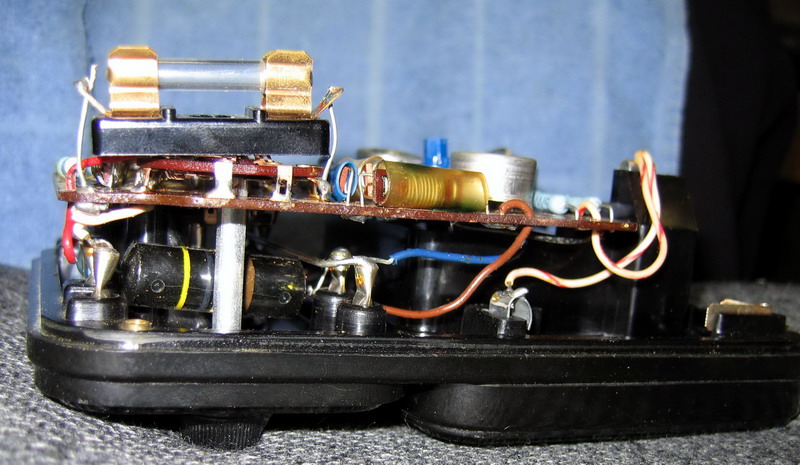 The other side, component layout. The batteries used in this model are a single "D" cell,
plus four "AA" batteries, there are two "AA" below the "D" and one "AA" on each side.
Case Size: 5¼ " x 7 " x 3⅛ " - Weight: 3 Pounds

Simpson 270-2 Specifications
DC VOLTAGE
Ranges 2.5V, 10V, 50V, 250V, 1000V, 5000V
AC VOLTAGE
Ranges 2.5V, 10V, 50V, 250V, 1000V
DECIBEL
5 Ranges -20 to +50dB * Reference 0dB= 1mW into 600Ω
DC CURRENT
Ranges 50μA, 1mA, 10mA, l00mA, 500mA, 10A
RESISTANCE
Ranges R x 1, R x 100, R x 10K
Maximum Indication 0-2KΩ, 0-200Ω, 0-20MΩ
Audio Frequency Output
With 0.1μf internal series capacitor
Ranges 2.5V, 10V, 50V, 250V

All photographs shown on this Guest Meter Page are:
Copyright © 2009 - Mark Zacharias - All Rights Reserved
Thank you for sharing this meter with the visitors to Simpson260.com

Back To Downloads Back To Main Page