Simpson 261 Series 2
Analog - VOM
Volt-Ohm-Milliammeter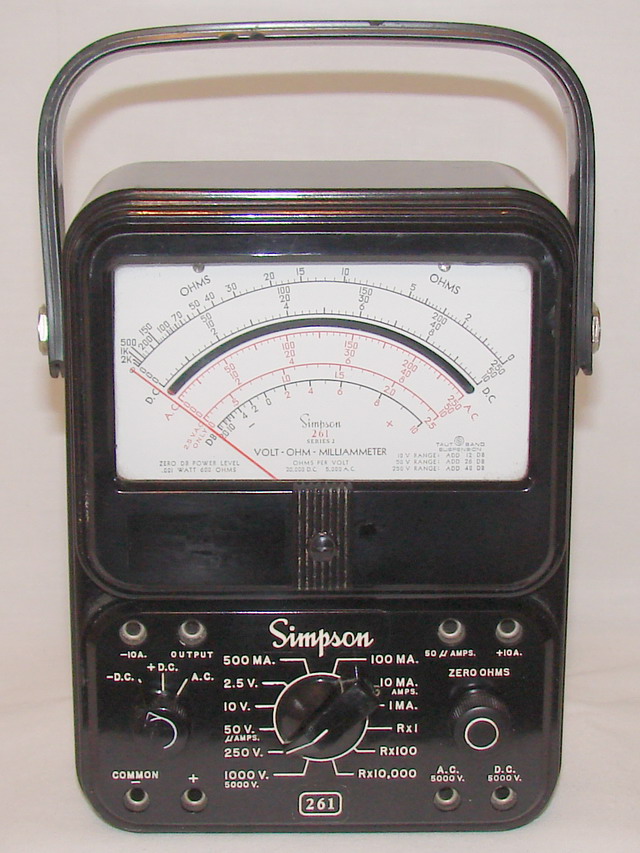 The Simpson 261 is an improved version of the Simpson 260-3.
This model has a rugged, self-shielding, high torque, annular meter movement with
protective diode and mirrored dial. This meter also has spring backed jewel screws.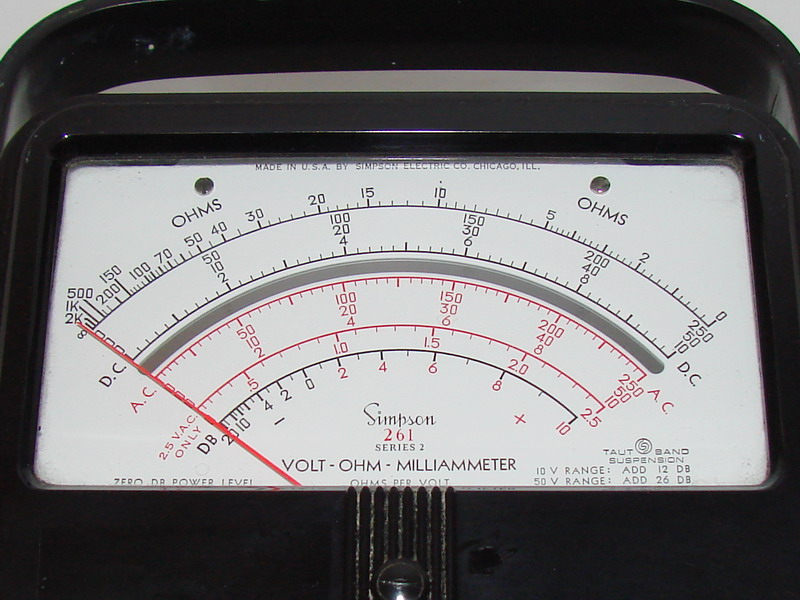 The Simpson 261-2 has Taut Band Suspension and a mirrored dial to eliminate parallax errors.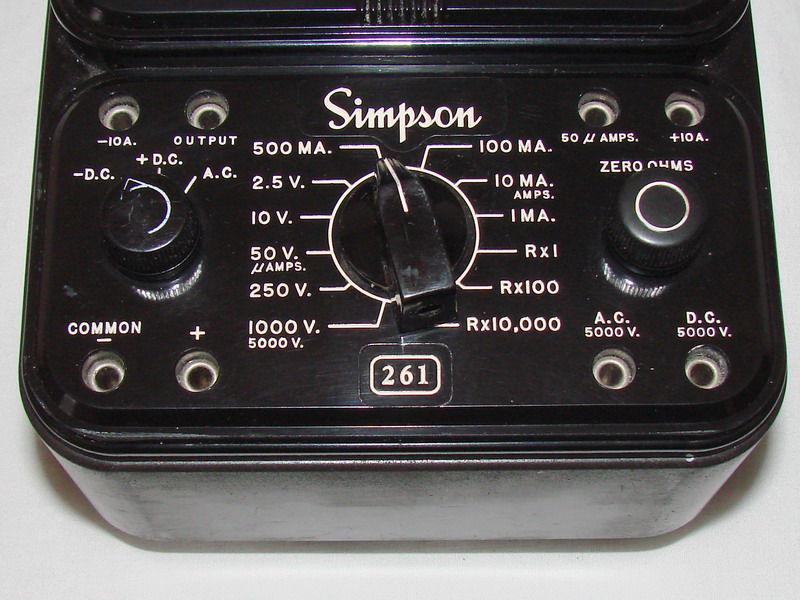 Controls include: Ohms zero adjustment, AC - DC - Select, a 12 position Function / Range
selector switch, and eight recessed probe jacks.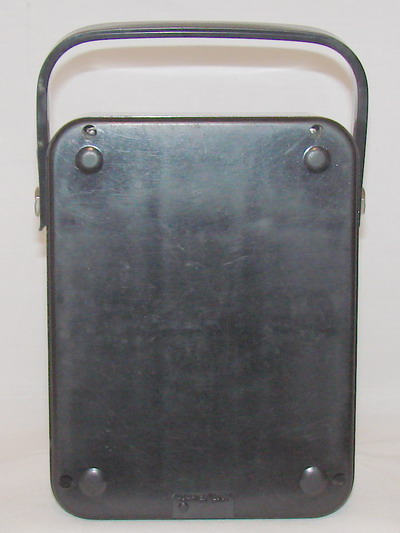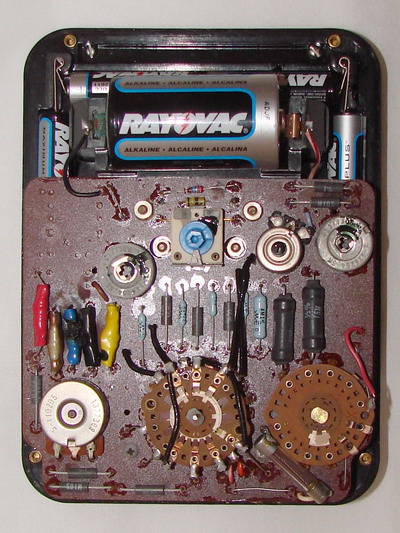 The Simpson 261 has a special calibration circuit to increase it's accuracy.
More inside views linked below.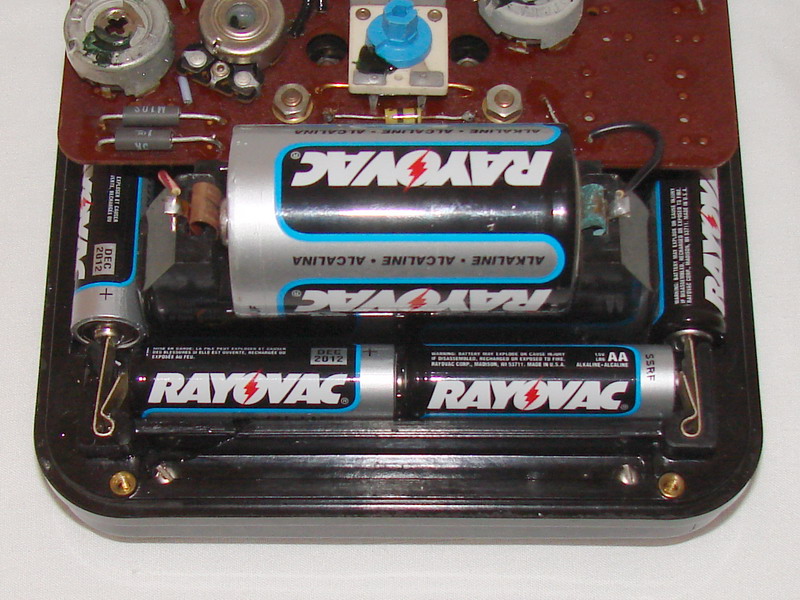 The batteries used in this model are a single "D" cell, plus four "AA" batteries, there are two "AA"
below the "D" and one "AA" on each side. The batteries can be installed without
doing anything but removing the back of the case.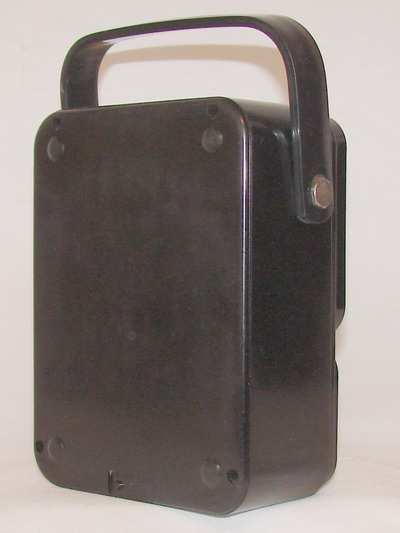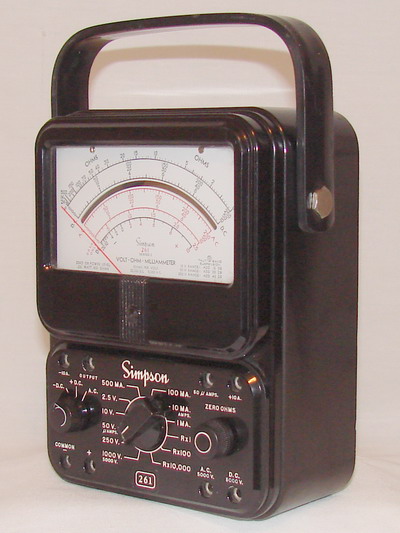 Case Size: 5¼ " x 7 " x 3⅛ " - Weight: 3 Pounds
The Adjust-A-View handle can also support the meter in a sloping position for viewing.

Simpson 261 Series 2 Specifications
DC VOLTAGE
Ranges 250mV, 1V, 2.5V, 10V ,25V, 50V, 250V, 500V, 1000V
Accuracy 2% of full scale * Sensitivity 20K per volt
AC VOLTAGE
Ranges 2.5V, 10V, 25V, 50V, 250V, 500V, 1000V
Accuracy 3% of full scale * Sensitivity 5K per volt
Rated Circuit-To-Ground Voltage 1000V (AC or DC) max.
DECIBEL
5 Ranges -20 to +50dB * Reference 0dB= 1mW into 600Ω
DC CURRENT
Ranges 50μA, 1mA, 10mA, l00mA, 500mA, 10A
Accuracy 1.5% full scale 5OμA, 2.0% of full scale, all other
Voltage Drop: (Nominal) 250mV on 50μA , 1mA; 255mV on 10mA , 10A; 300mV on 100mA, 500mV on 500mA
RESISTANCE
Ranges Rx 1, Rx 100, Rx 10K
Accuracy 2.5° of arc on Rx1, 2.0° of arc on other
Maximum Indication 0-2KΩ, 0-200Ω, 0-20MΩ