Simpson 260® Series 6XLP
Analog - VOM
Volt-Ohm-Milliammeter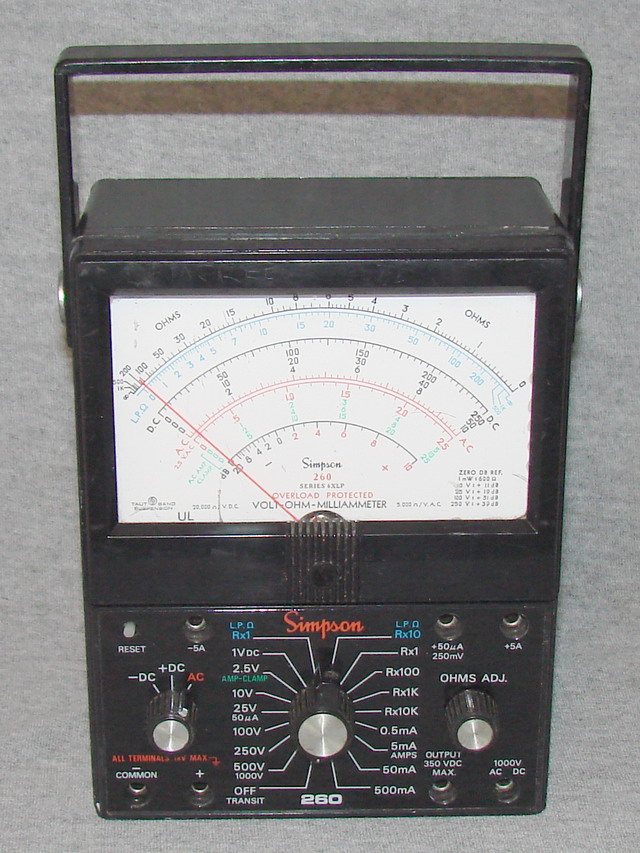 Included with the Simpson 260-6XLP are the Catalog Number 00125 test leads & alligator clips,
operators manual, both batteries, and both fuses.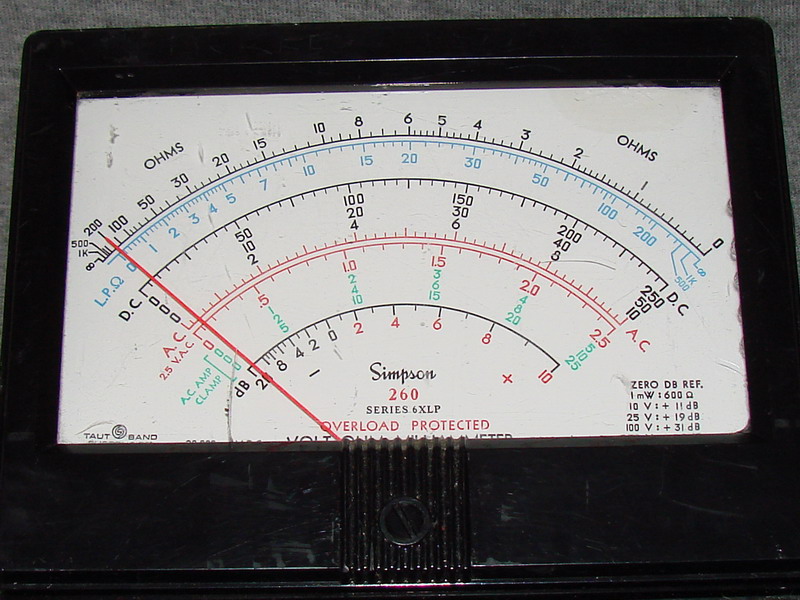 The Simpson 260-6XLP has the Taut Band Suspension dial with the three Amp-Clamp scales.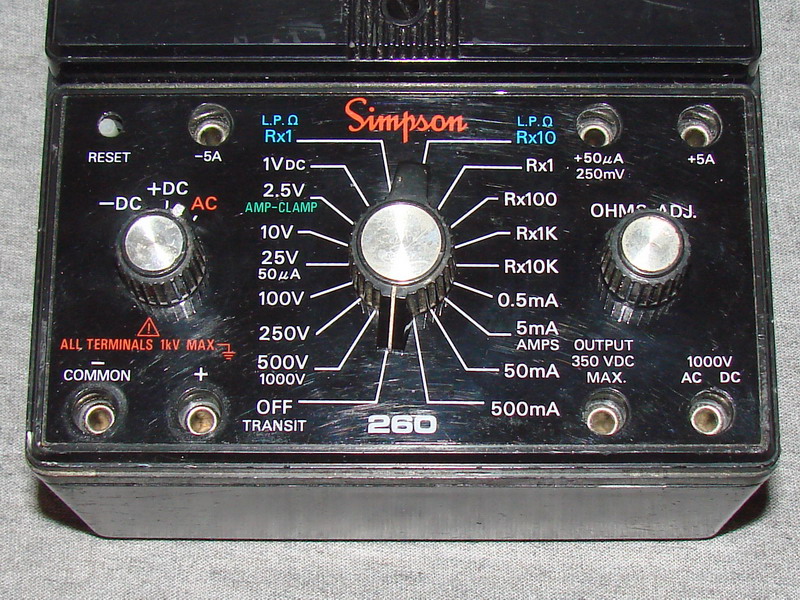 Controls include: Ohms zero adjustment, AC - DC - Select, a 18 position Function / Range
selector switch, and seven probe jacks. This meter has an off/transit position on the function switch.
The Simpson 260-XLP has two additional "low power" ohms scales marked in blue, and the
setting for the optional model 150-2 amp-clamp is marked in green.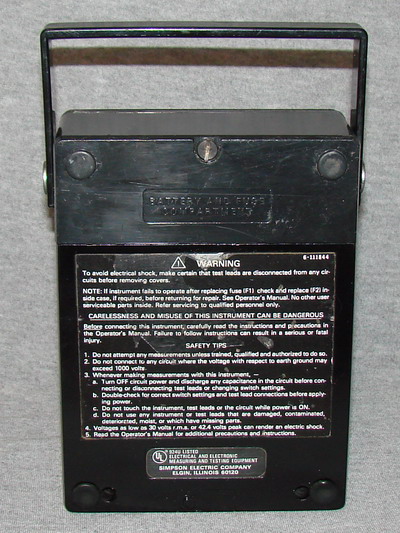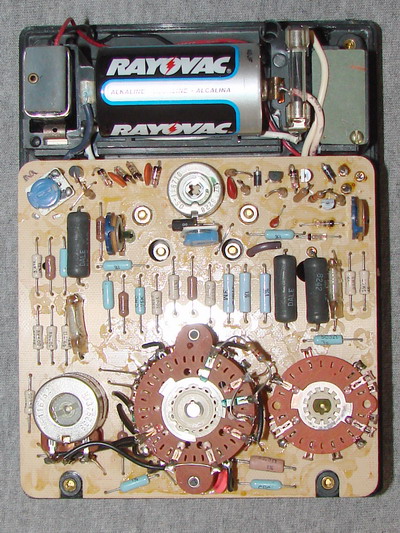 The back of the case has an "adapter lock" for use with "Add-A-Tester" accessories.
The rear case now has rubber feet instead of raised bumps at the four corners.
More inside views linked below.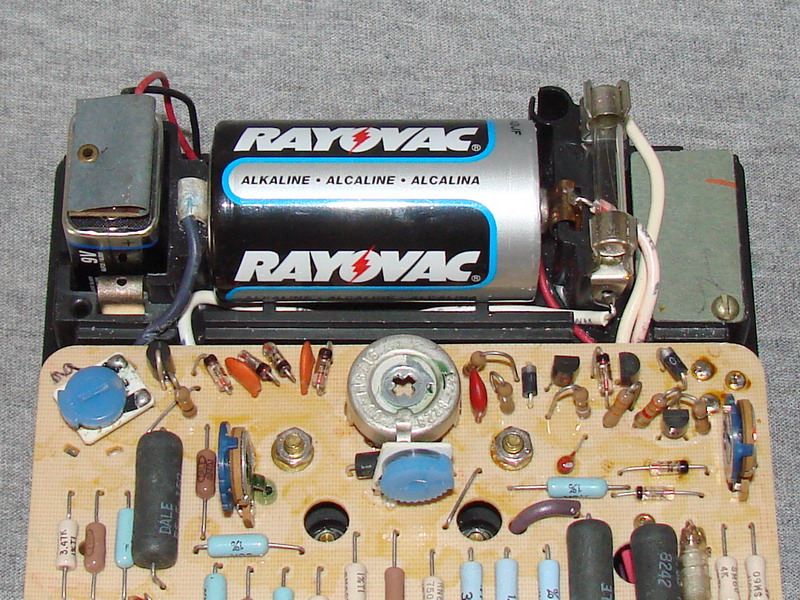 This model uses the NEDA 13 F "D" cell and NEDA 1604A (9 Volt) batteries combination.
The Simpson 260 series 6XLP has the separate battery / fuse cover.
This allows you to change the batteries and one amp fuse without removing the entire back cover.
The back cover must be removed to change the 2 Amp fuse.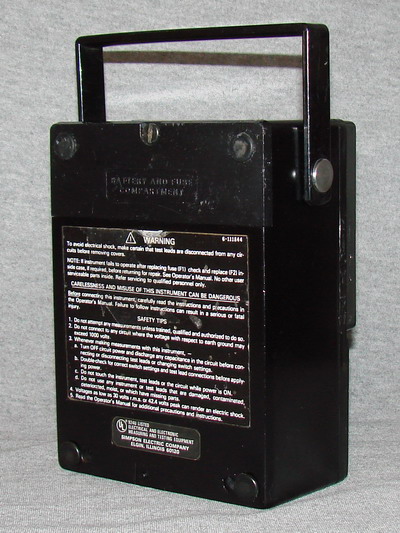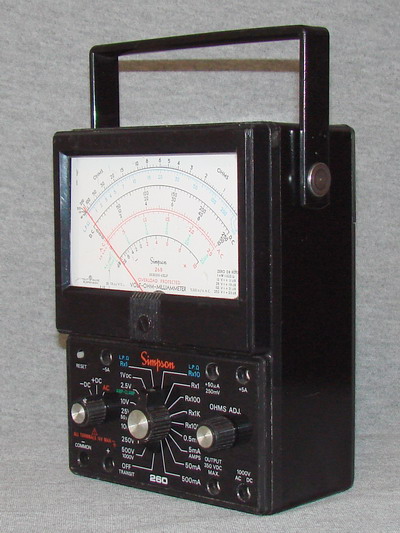 Case Size: 5¼ " x 7 " x 3⅛ " - Weight: 2¼ Pounds

Simpson 260-6XLP Specifications
DC VOLTAGE
Ranges 250mV, 1 V, 2.5V, 10V, 25V,100V, 250V, 500V, 1000V
Accuracy 2% of full scale * Sensitivity 20K per volt
AC VOLTAGE
Ranges 2.5V, 10V, 25V, 100V, 250V,500V, 1000V
Accuracy 3% of full scale * Sensitivity 5K per volt
Rated Circuit-To-Ground Voltage 1000V AC/DC Max
DECIBEL
5 Ranges -20 to +39dB * Reference 0dB= 1mW into 600Ω
DC CURRENT
Ranges 50μA, 0.5mA, 5mA, 50mA,500mA, 5A
Accuracy 1.0% full scale 50μA2.0% full scale, all other
Voltage Drop: (Nominal) 250 mV on 50μA/0.5mA/5A, 252mV on 5mA/50mA, 400mV on 500mA
STANDARD POWER RESISTANCE
Ranges Rx1, Rx100, Rx1K, Rx10K
Accuracy 2.5° of arc on Rx1, 2.0° of arc all other
Maximum Indication 0-2KΩ, 0-200KΩ, 0-2MΩ, 0-20MΩ
Open Circuit Voltage 1.5V, 1.5V, 1.5V, 9.0V
Short Circuit Current 250mA, 2.5mA, 250μA, 125μA
LOW POWER RESISTANCE
Ranges Rx1, Rx10
Accuracy 2.5° of arc on Rx1, 2.0° of arc on Rx10
Maximum Indication 0-1KΩ, 0-10KΩ
Open Circuit Voltage 100mV
Short Circuit Current 4.9mA, 490μA
Back To Downloads Back To Main Page