Simpson 260® Series 5P
Analog - VOM
Volt-Ohm-Milliammeter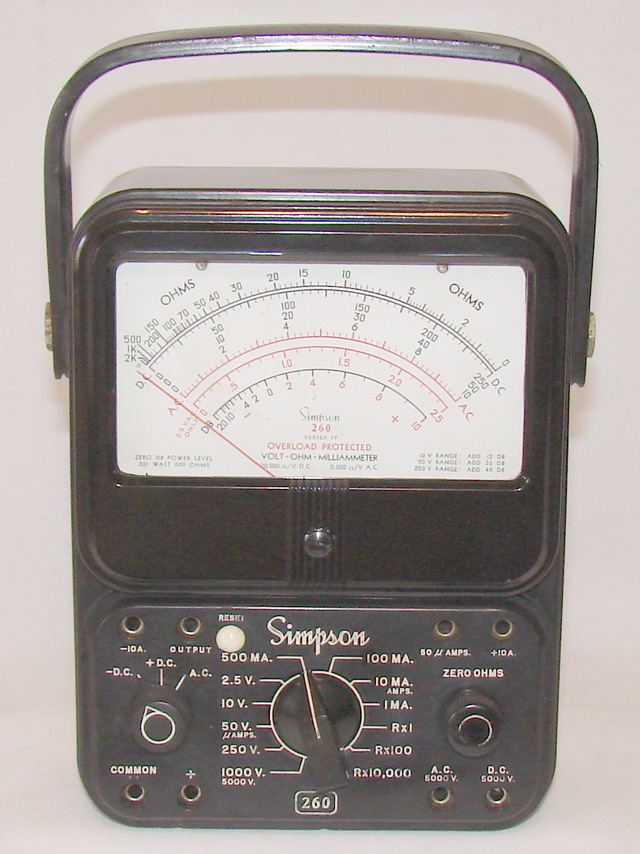 New for the Simpson line is the 260-5P series. This is the first model 260 with overload protection.
It will be offered on all series models after this, up to and including the current Series 9.
This model takes the banana jack type test leads.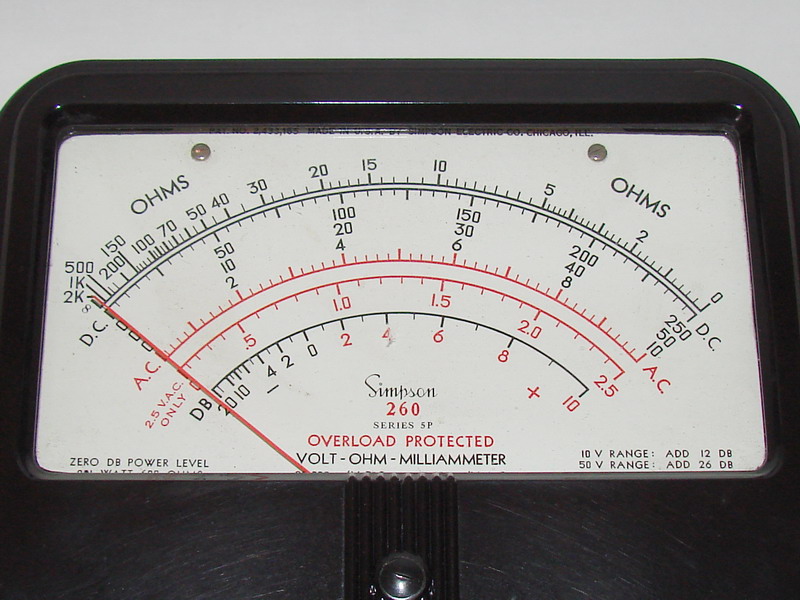 Note that the meter does not have the Taut Band Suspension that the 260-5M has.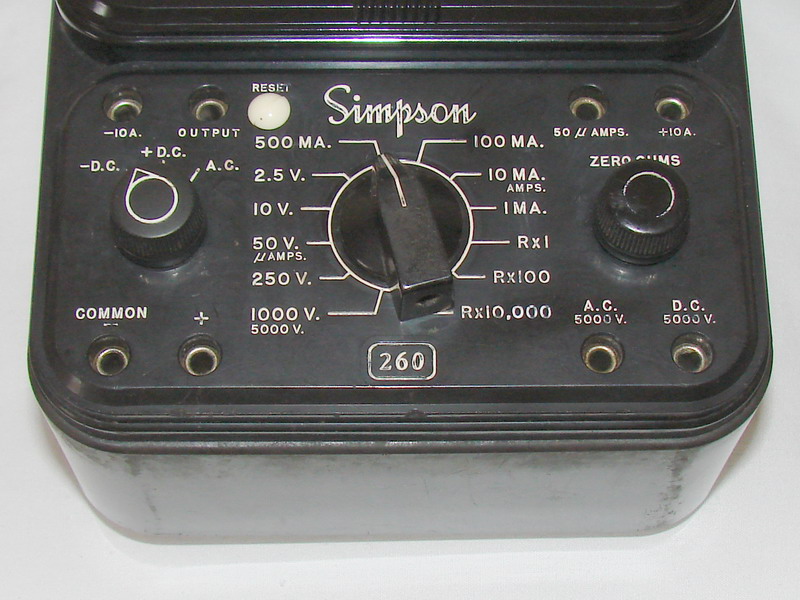 Controls include: Ohms zero adjustment, AC - DC Voltage selector switch,
and a 12 position Function / Range selector switch. Eight recessed probe jacks.
The overload reset button is on the left side of the Simpson logo.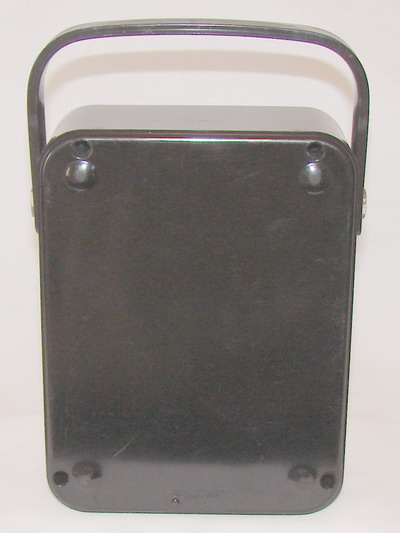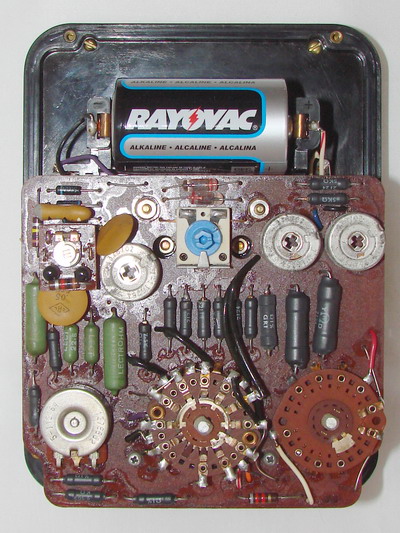 The back of the case has an "adapter lock" for use with "Add-A-Tester" accessories.
The printed circuit boards can now withstand higher voltages than previous models.
The batteries can be installed without taking the whole unit apart.
Fred Scoles shares this bit of knowledge:
" I can share one bit of errata about the Simpson 260-5P. I have two of them, that were apparently made
in different years...different production runs. The small circuit board that contains the transistorized relay
 protection circuit is very different between the two units. On one unit there is one transistor, and on the other
unit there are two transistors, and different resistor counts....both circuits seem to work as designed,
so I don't know why the change. I've never seen a Simpson manual, parts list, or diagram
that actually details this small circuit board. The somewhat similar Triplett Model 630-PLK
(that went through various "Type" revs) also didn't detail the component layout on their small protection board. "
More inside views linked below.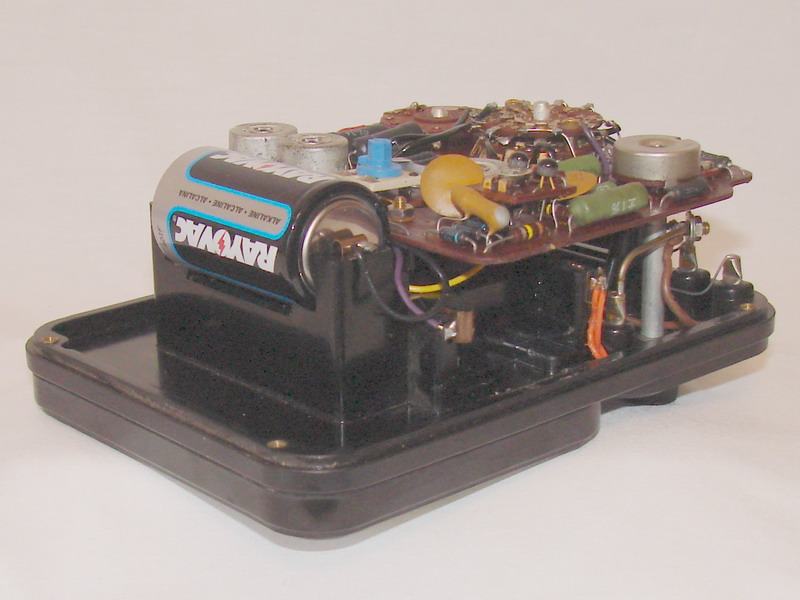 The batteries used in this model are a single "D" cell, plus an Eveready 417, 15 Volt battery.
The batteries can be installed without doing anything but removing the back of the case.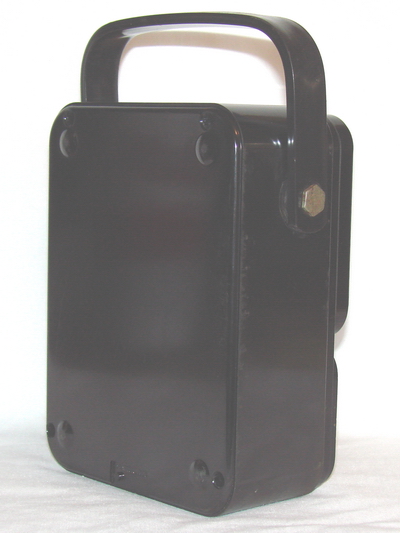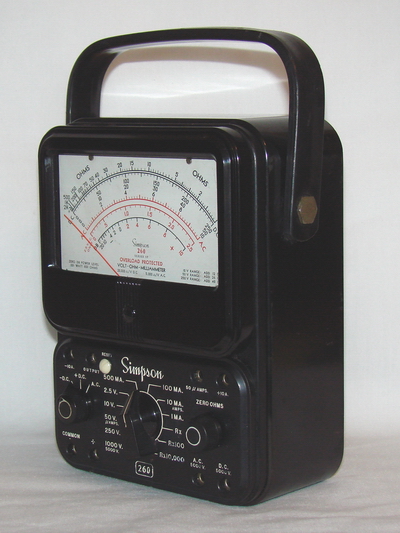 Case Size: 5¼ " x 7 " x 3⅛ " - Weight: 3 Pounds 1966 Price: $79.95
The Adjust-A-View handle can also support the meter in a sloping position for viewing.

Simpson 260 Series 5P Specifications
DC VOLTAGE
Ranges 250mV, 1V, 2.5V, 10V ,25V, 50V, 250V, 500V, 1000V
Accuracy 2% of full scale * Sensitivity 20K per volt
AC VOLTAGE
Ranges 2.5V, 10V, 25V, 50V, 250V, 500V, 1000V
Accuracy 3% of full scale * Sensitivity 5K per volt
Rated Circuit-To-Ground Voltage 1000V (AC or DC) max.
DECIBEL
5 Ranges -20 to +50dB * Reference 0dB= 1mW into 600Ω
DC CURRENT
Ranges 50μA, 1mA, 10mA, l00mA, 500mA, 10A
Accuracy 1.5% full scale 5OμA, 2.0% of full scale, all other
Voltage Drop: (Nominal) 250mV on 50μA , 1mA; 255mV on 10mA , 10A; 300mV on 100mA, 500mV on 500mA
RESISTANCE
Ranges Rx 1, Rx 100, Rx 10K
Accuracy 2.5° of arc on Rx1, 2.0° of arc on other
Maximum Indication 0-2KΩ, 0-200Ω, 0-20MΩ
Back To Downloads Back To Main Page