Simpson 260® Series 3
Analog - VOM
Volt-Ohm-Milliammeter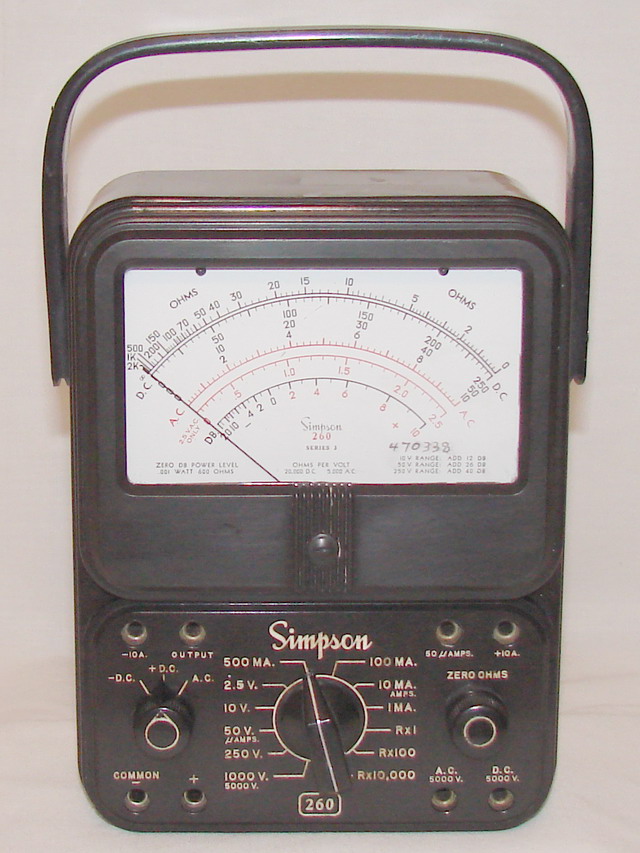 The Simpson 260 Series 3 arrived about 1959. Two versions were made, the Series 3 & 3A.
This model takes the banana jack type test leads.
The inside of this unit has a date stamp of February 12, 1959.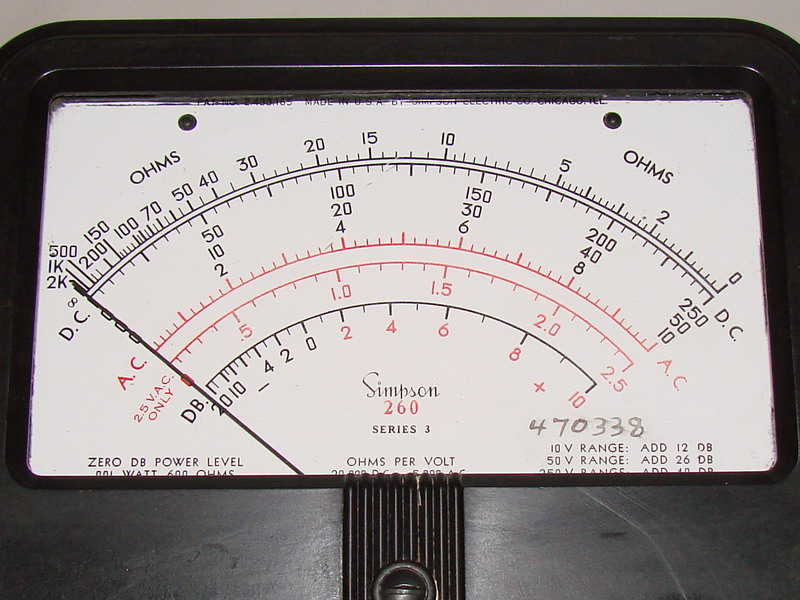 The same meter face as the Series 2A, with the addition of a number someone wrote on it.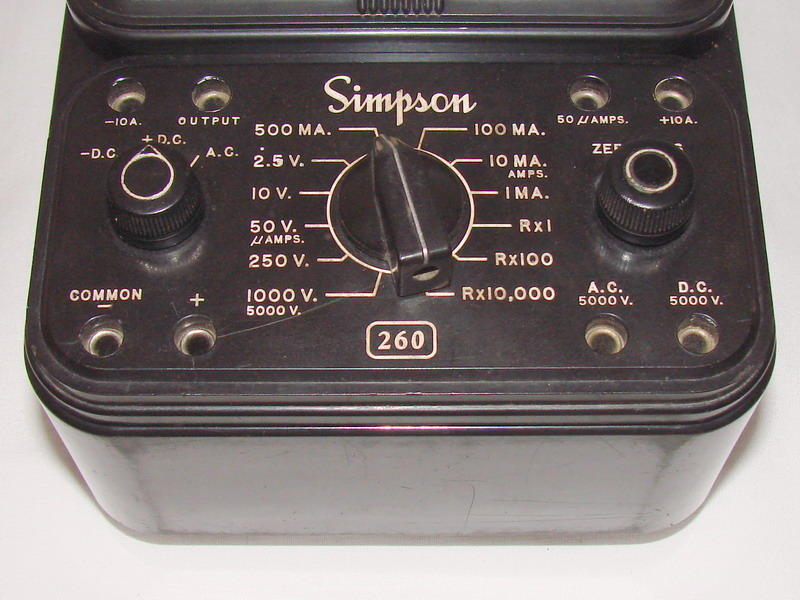 Controls include: Ohms zero adjustment, AC - DC - Output, a 12 position Function / Range
selector switch, and we are now up to eight recessed probe jacks.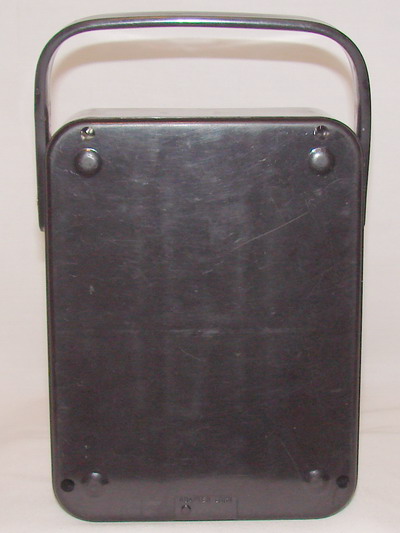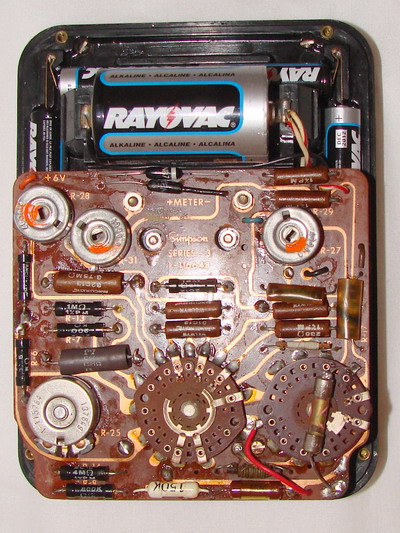 The back of the case now has an "adapter lock" for use with add-on accessories such as the 625
temperature adaptor. The inside view shows the printed circuit boards have arrived and trim pots
for calibration are available. The batteries can now be installed without taking the whole
unit apart, only the back of the case needs to be removed.
More inside views linked below.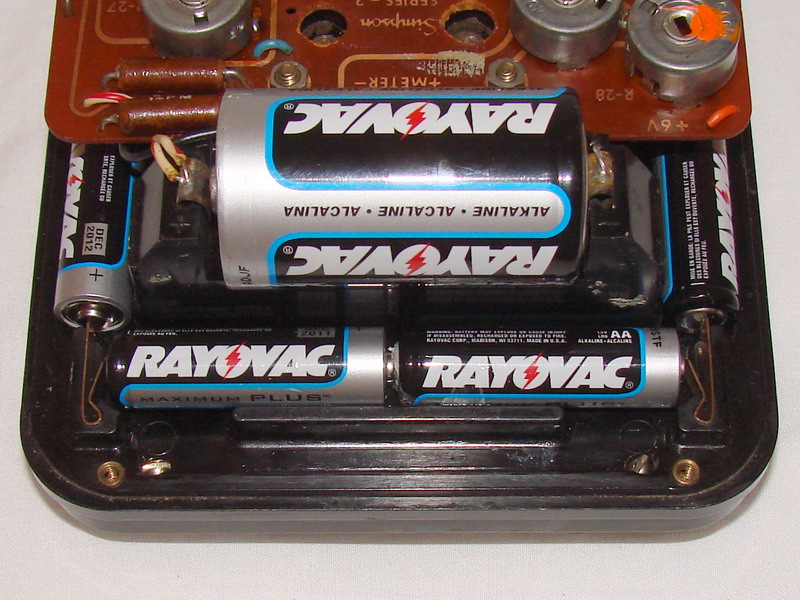 The batteries used in this model are a single "D" cell, plus four "AA" batteries, there are two "AA"
below the "D" and one "AA" on each side. The batteries can now be installed without
doing anything but removing the back of the case.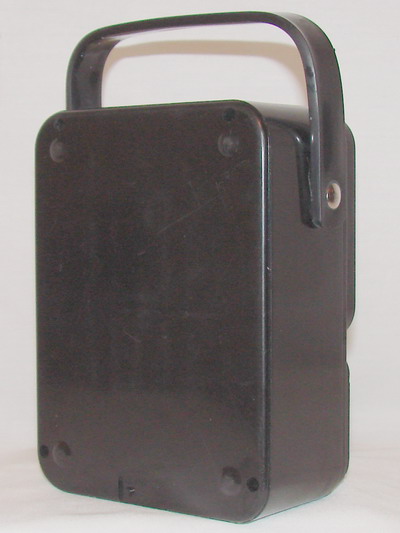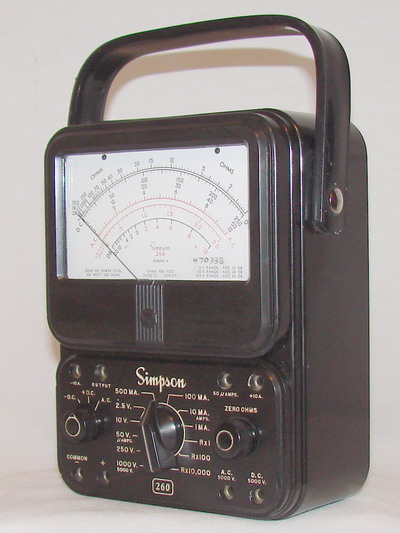 Case Size: 5¼ " x 7 " x 3⅛ " - Weight: 3 Pounds - 1953 Price: $38.95
The Adjust-A-View handle can also support the meter in a sloping position for viewing.

Simpson
260 Series 3 Specifications
DC VOLTAGE
Ranges 2.5V, 10V, 50V, 250V, 1000V
Accuracy 3% of full scale * Sensitivity 20K ohms per volt
AC VOLTAGE
Ranges 2.5V, 10V, 50V, 250V, 1000V
Accuracy 3% of full scale * Sensitivity 5K ohms per volt
Rated Circuit-To-Ground Voltage Unknown
DECIBEL
4 Ranges +10, +22, +36, +50dB
DC CURRENT
Ranges 100μA, 10mA, l00mA, 500mA
Accuracy 3% of full scale
RESISTANCE
Ranges Rx 1, Rx 100, Rx 10K
Accuracy 3° of arc
Back To Downloads Back To Main Page