The Original Simpson 260®
Analog - VOM
Special Guest Meter Page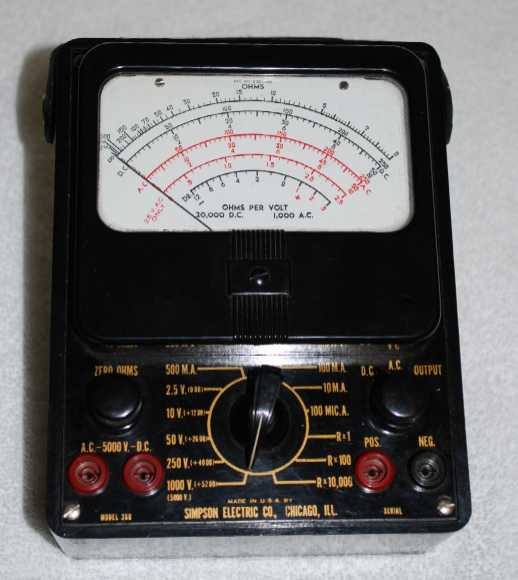 The original Simpson 260 was introduced in the 1930's, and was still advertised in 1946.
The "Series" designation would not start until the 260 Series 2A. The probe jacks accept the pin type leads,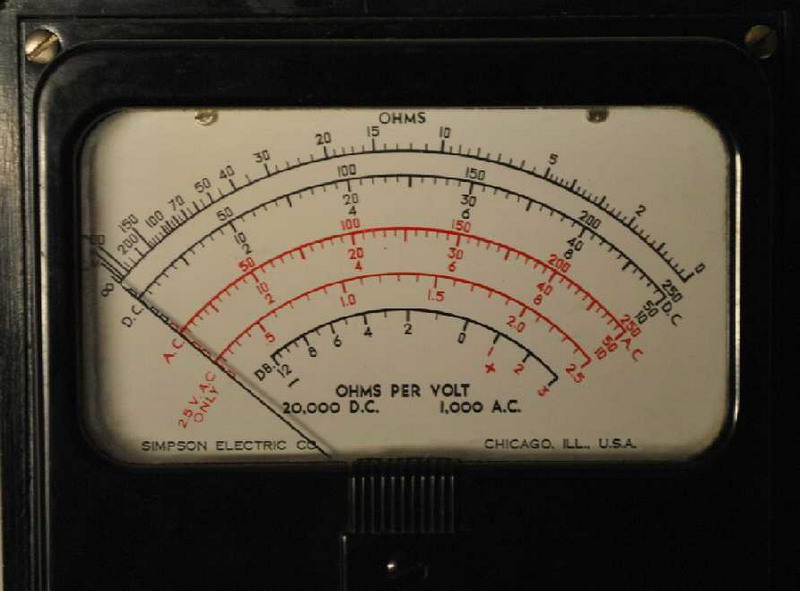 No Taut Band Suspension, molded case or mirrored dial, those were still a few years away.
The operating instructions are two pages, typewritten and dated July 20, 1939.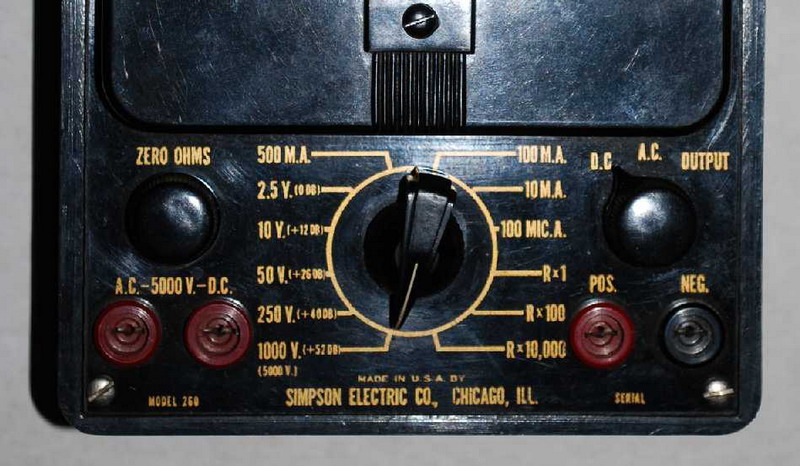 Controls include: Ohms zero adjustment, AC - DC - Output, a 12 position Function / Range selector switch,
and four recessed probe jacks. The labeling is silk screened on the front, the engraved lettering would
come with the next version. Note that they used "MIC" for Micro on the 100μA range.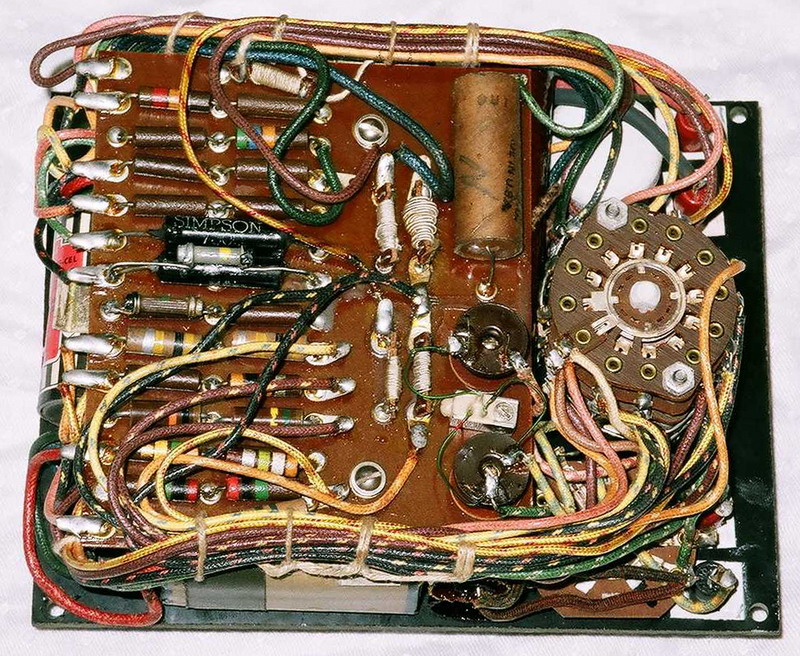 Back view with cover off. A lot of hand wiring here, Printed Circuit Boards were not around.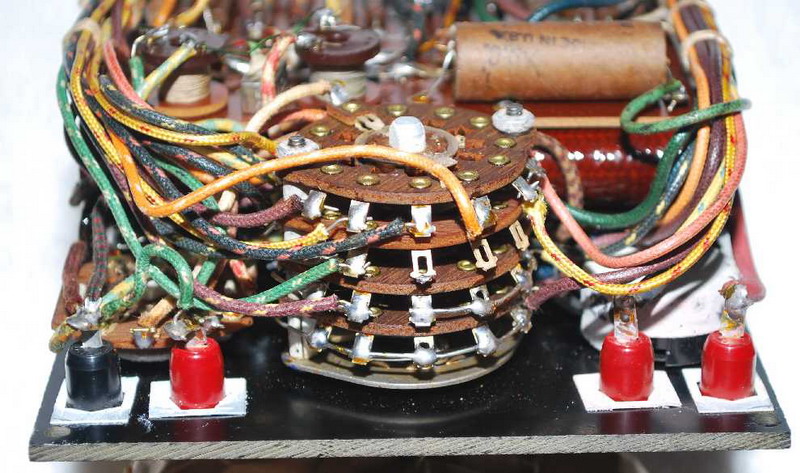 There are no fuses used in this unit. There are no calibration trim pots.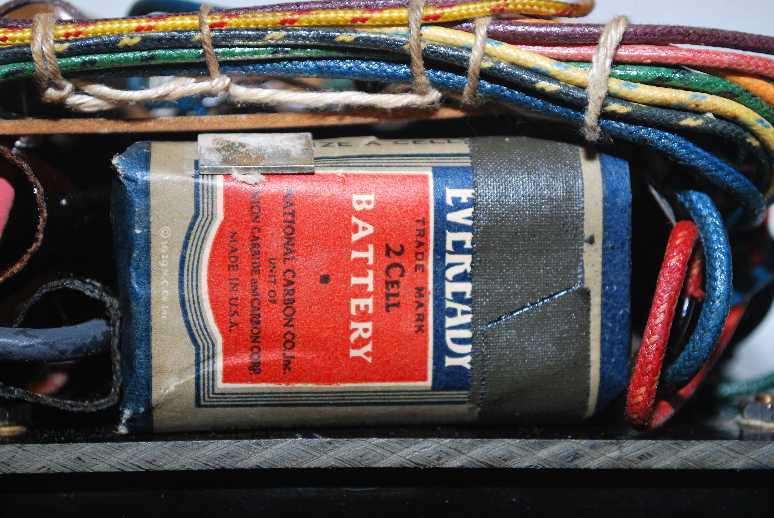 The original batteries used in this model are two 3 Volt batteries, (Eveready 905)
and one ("C" Size) 1½ Volt battery. However, most 3 Volt batteries were replaced using two "AA"
size batteries soldered in series on each side.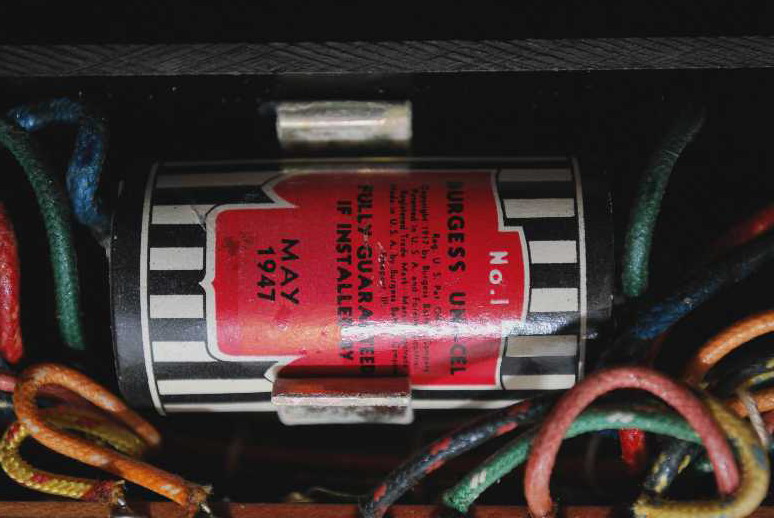 All batteries are soldered into place.
Case Size: 6¾ " x 5¼ " x 3 " - Weight: 3 Pounds

Simpson
260 Specifications
DC VOLTAGE
Ranges 2.5V, 10V, 50V, 250V, 1000V
Accuracy 3% of full scale * Sensitivity Unknown
AC VOLTAGE
Ranges 2.5V, 10V, 50V, 250V, 1000V
Accuracy 5% of full scale * Sensitivity Unknown
Rated Circuit-To-Ground Voltage Unknown
DECIBEL
5 Ranges 0, +12, +26, +40, +52dB
DC CURRENT
Ranges 100μA, 10mA, l00mA, 500mA
Accuracy Unknown
RESISTANCE
Ranges Rx 1, Rx 100, Rx 10K
Accuracy Unknown

All photographs shown on this Guest Meter Page are:
Copyright © 2008-2009 - "Allan from Maryland" - All Rights Reserved
Thank you for sharing this meter with the visitors to Simpson260.com

Back To Downloads Back To Main Page