Simpson 240-4
Analog Volt - Ohm - Milliammeter
Special Guest Meter Page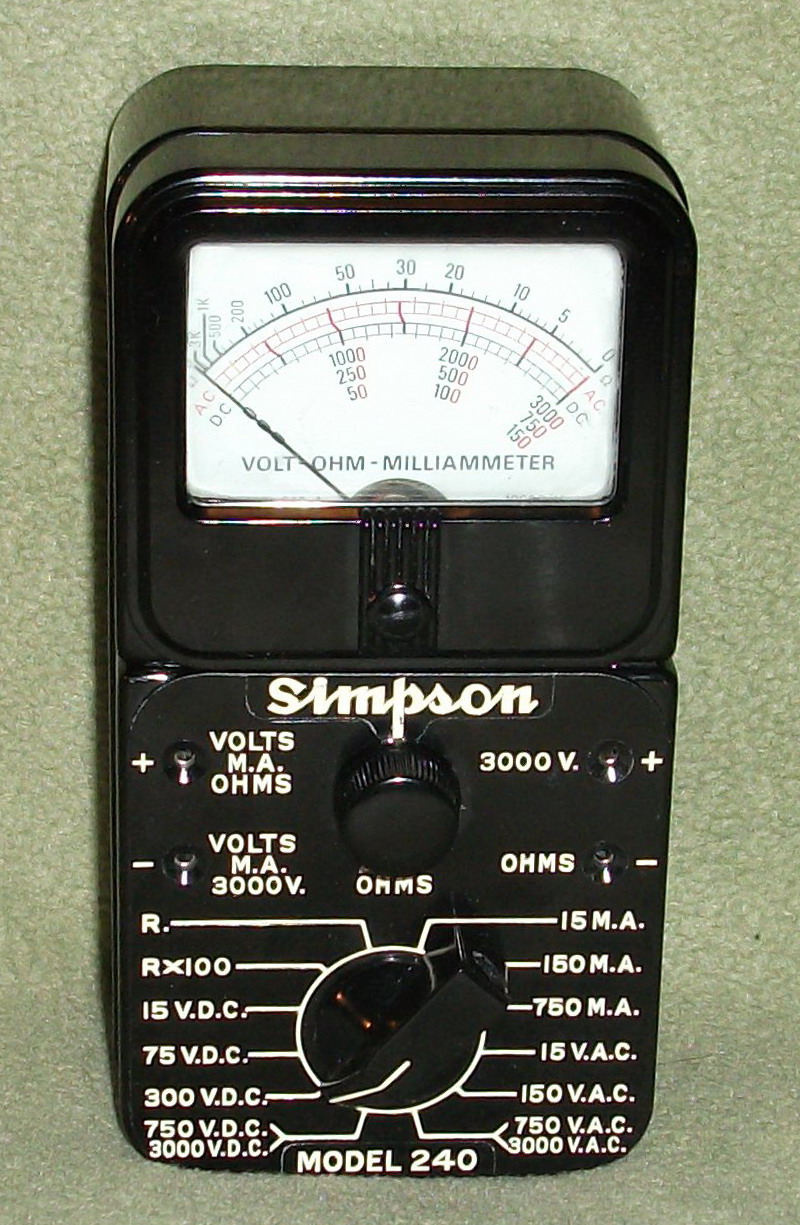 This model is also known as the "Hammeter" as it was designed to serve the needs of amateur radio operators
for checking circuits in their radios.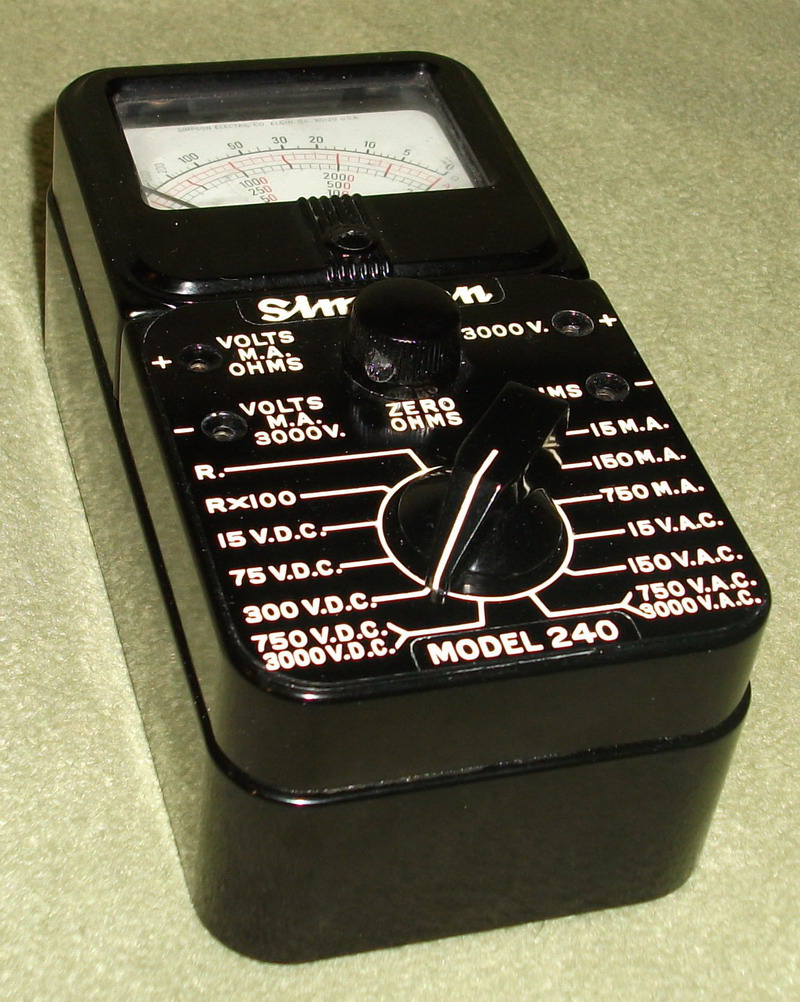 Front panel controls include a 12 position range switch and a zero ohms knob.
Download a copy of the manual for the Simpson 240-4 here, schematics are included.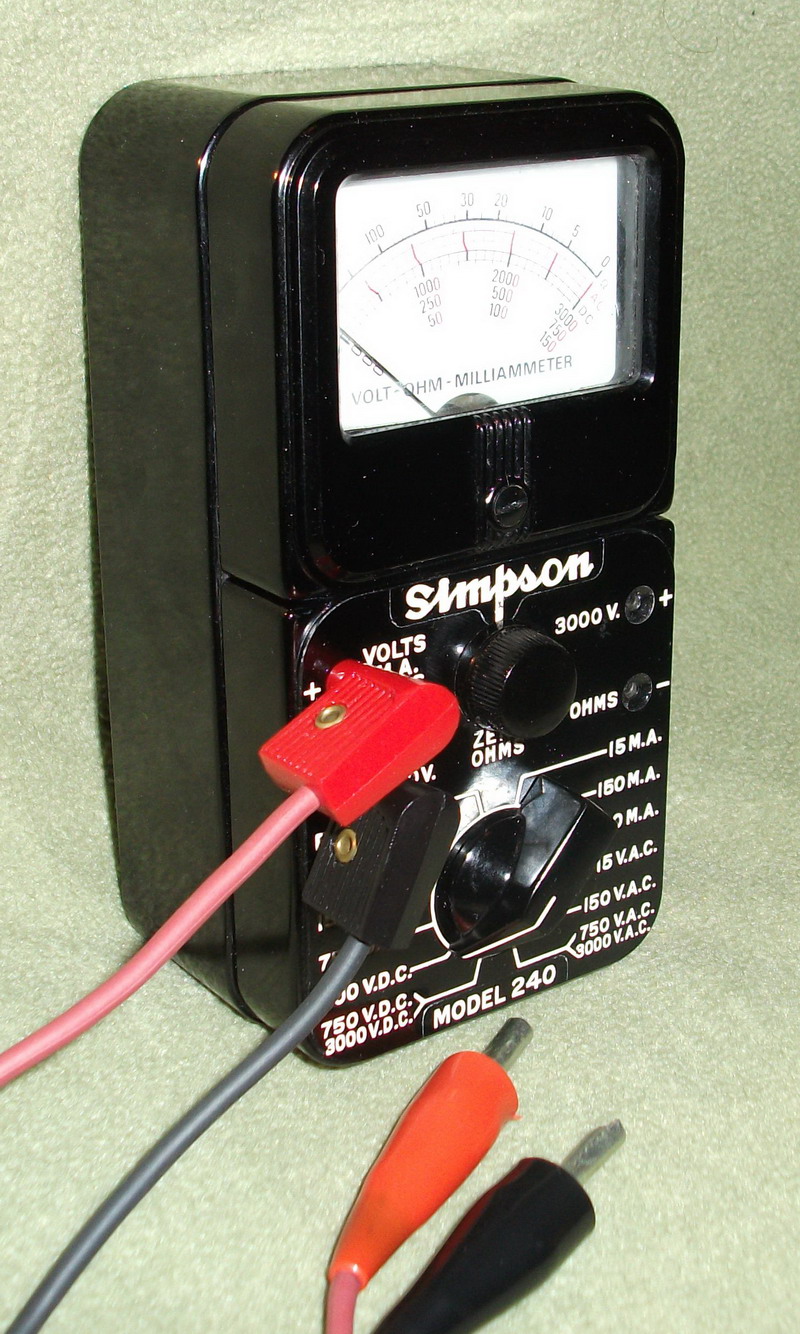 This meter is in "as new" condition, not a scratch to be found as shown in the photographs.
Case Size: 3 1/16" x 5 7/8" x 2 5/8" - Weight: 1 1/3 Pounds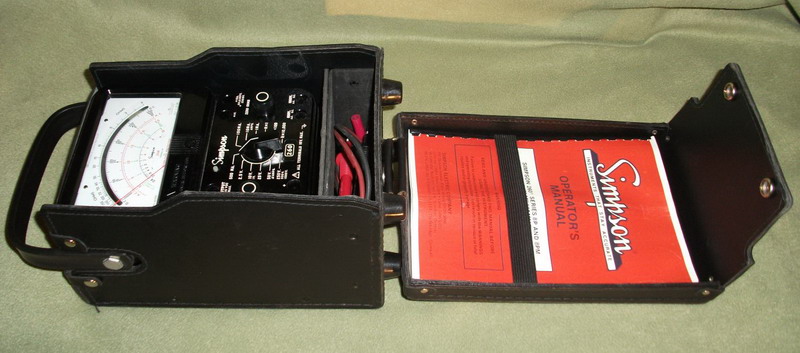 Here is Roberts' Simpson 260 Series 8PM in a nice drop open Eveready carry case.
Storage area for the test leads and manual makes this a nice setup.

Simpson
240-4 "Hammeter"Specifications
DC VOLTAGE
Ranges 0-15V, 0-75V, 0-300V, 0-750V, 0-3000V
Accuracy 3% of full scale * Sensitivity 1000 Ohms per volt
AC VOLTAGE
Ranges 0-15V, 0-150V, 0-750V, 0-3000V
Accuracy 4% of full scale * Sensitivity 1000 ohms per volt
DC CURRENT
Ranges 0-15mA, 0-150mA, 0-750mA
Accuracy 3%
Voltage Drop: 150mV, maximum
RESISTANCE
Ranges Rx1( 0-3000 ohms), Rx100 (0-300,000 Ohms)
Accuracy 3° of arc

All photographs shown on this Guest Meter Page are:
Copyright © 2010 - Robert Gibson - All Rights Reserved
Thank you for sharing this meter with the visitors to Simpson260.com

Back To Downloads Back To Main Page